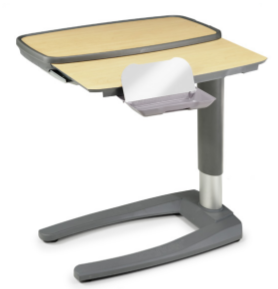 Making life easier for our residents with Over-bed Tables
February 10, 2021
Samaritan Bethany campus is closed to visitors to protect our residents and staff – and to do our part to lessen the impact and spread of the virus. As residents have to spend most of the time in their rooms, and staff works to make their lives more comfortable, one of the things that would make life easier are Over-bed tables. While there is so much that we can't do right now, due to the virus, here is something you can do to help our residents; help us purchase over-bed tables by making a gift today.
Over-bed tables, also known as hospital bed tables, allows the resident to keep personal items close at hand while not necessarily on their lap at all times. This table is particularly useful for keeping small items that are easily lost, such as pens and pencils, and also allows the user to enjoy food and drink comfortably without worry of spills.
Please consider making an investment in over-bed tables so our residents can make their rooms more effective and efficient. Each over-bed table costs about $500, but a contribution of any amount is appreciated.