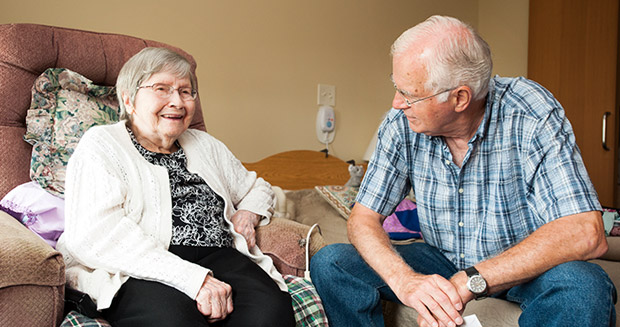 Living & Care Options
Samaritan Bethany offers a full range of comfortable and appealing living and care options for seniors. These include:
All of our living communities are accessible under one roof, with easy access to the chapel, gift shop, and barber and beauty shop. Guest suites are available for visiting family members.
Residents of the Samaritan Bethany community can easily transfer between different living and care options as their needs change. Couples with varying needs can remain under the same roof.
The Household Model
Samaritan Bethany has adopted the Household Model of living for all of our living options that provide assistance with activities of daily living or greater levels of skilled care.
The Household Model features private rooms grouped around shared family-style kitchens, dining rooms and living rooms that are similar to those found in a private home and allow residents a high degree of flexibility in how they choose to live their lives.
Action Pact, a unique culture change company, describes the Household Model further:
"

Each household has decision-making autonomy and is consistently staffed. Residents get up when they want, bathe how and when they want, go to bed when they want, eat when and what they want and decide how they will spend their days. Household life is 'normal,' spontaneous and full of new experiences."