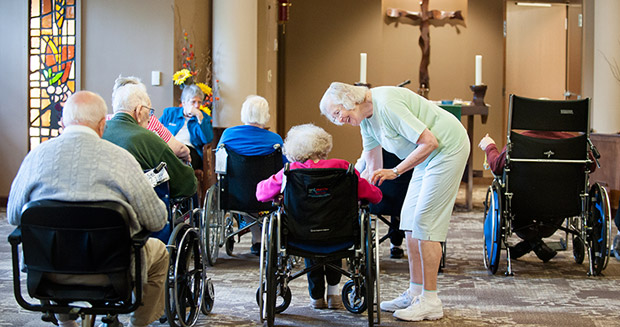 Spiritual Life
At Samaritan Bethany, we know how important it is to support and honor the spiritual lives of all who make their home here.
Chaplain Barb Schunke, our full-time chaplain, performs ecumenical Sunday church services, as well as weekly Lenten and Advent services. She also holds weekly Bible studies in all of our communities, from our Independent Living apartments to our Assisted Living, Short Term Care and Long Term Care households. Chaplain Barb establishes relationships with residents during one-to-one visits. She also performs many memorial services for residents.
Chaplain Barb can be contacted at 507-289-4031 or bschunke@samaritanbethany.com.
Our lovely chapel is used for church and memorial services, as well as for musical performances and other activities. It is a peaceful place for contemplation at any time. The chapel is easily accessible to all Samaritan Bethany residents.