***Samaritan Bethany Nursing Assistant Classes Update:
June 8, 2020
I hope you are safe and well.  As you well know the COVID 19 has changed how we are living right now, affecting the lives of everyone. It has also affected the way we will have to continue to run the nursing assistant  classes here at Samaritan Bethany Inc.
 We will be holding a small class, with changes related to COVID 19. Samaritan Bethany Inc. will be starting a class beginning July 6th.  This class will be day classes Monday through Thursday 9:00 am to 3:00 pm till the end of July.
Samaritan Bethany Inc. has been given guidance by the Minnesota Department of Health and also the Management on new rules and regulations on how to proceed with the process of training in order to keep all involved safe.  In order to comply with social distancing the class size will be much smaller.
That being said, we have called the students according to the new process and we have the candidates for these classes.
So at this time, we are sorry to inform you that the July classes are now filled.  If someone drops out, we will be calling you according to our procedure. 
Please look for updates on any further classes that may be held at Samaritan Bethany Inc. here at our website.
At this time there are no scheduled classes before the end of the year.
Thank you for your patience and understanding,
Sheila Erickson, RN
Nursing Assistant Training Coordinator
Samaritan Bethany
For more information, please contact Janet Hofschulte at 507-289-5042 or email us at info@samaritanbethany.com
Please refer to this website for updates and information on the two summer classes.
Thank you for considering a career or educational opportunity with Samaritan Bethany.
For more information about career opportunities:
Call 507-923-4722
Email careers@samaritanbethany.com
Careers
This is more than a place to work.
At Samaritan Bethany, our mission and values are inspired by the belief that we were sent to serve.  We choose to provide resident centered care in a way that encourages a sense of fun, family, and community.
Our Fun:  We believe that the only way to do great work is to love what you do.  So let's laugh, smile, and have a little fun.  And maybe even wear a Tutu on a Tuesday!
Our Family:  A family is a group of people who have something in common.  With us, that means each and every employee is an important part of the care team.
Our Community:  Simply put, we care about each other.  We care about your sense of belonging.  We care about the health and wellness of our staff and residents.  And we care about comfort, too, which means you will work in a modern, equipped facility.
Employees are not here to simply collect a paycheck; our team of Care Partners get a chance to truly connect with those they care for, unlike a hospital or clinic environment where the connection stops with the end of your shift.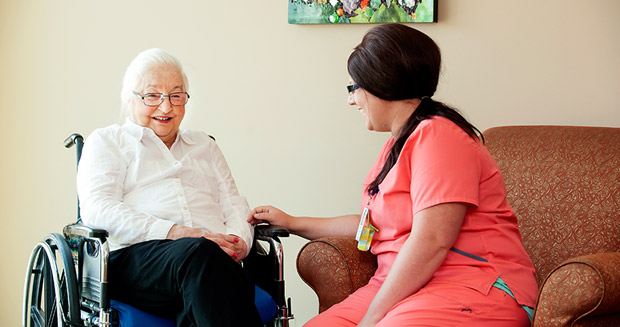 Choose Samaritan Bethany
Here are some of the reasons why you should consider a career with Samaritan Bethany:
We offer a different approach to work schedules. You will have a variety of shift times to choose from, and a work schedule you can rely on and plan your life around, even for part-time employees.
We care about your well-being. Choose from our competitive benefits including low deductible health insurance, wellness opportunities, and generous PTO program (including part-time staff).
We offer a continuum of care. Work experiences can be had in assisted living, memory care, short term rehabilitation and long term care.
We offer continuing education. Whether in person, online or at college, we offer training opportunities and scholarships to all of our employees.
We hope that you will consider joining the team at Samaritan Bethany. We are always looking for those who believe that compassion for others and high quality healthcare go hand-in-hand.
You can be an important part of our Care Partner team.  Join our Fun, our Family, our Community.
JOIN SAMARITAN BETHANY.
Employee Benefits
Employee benefits include: Health insurance, dental, life insurance, paid time off, disability, employee assistance, 403(b) retirement plan, employee discounts, dog-friendly workplace, pre-tax account for daycare and pre-tax account for healthcare.
Nursing Assistant Training Program
The Samaritan Bethany Nursing Assistant Training Program is a state-certified program preparing students for a career in healthcare. Sheila Erickson, RN, is the program coordinator.
Sessions Offered:
Samaritan Bethany holds two seven-week, part-time class sessions per year. There is a special four-week, full-time class session held during the summer for college-bound students who are entering a nursing program or another medical field.
Evening classes (4 p.m. – 8 p.m.) Currently on hold due to COVID-19
Summer session for college students (9 a.m. – 3 p.m.) Currently on hold due to COVID-19
Frequently Asked Questions
Where are the classes held?
The classroom is located in the corporate office of Samaritan Bethany. Enter at 24 8th St NW and proceed to the corporate office. The classes are held in our on-site training center. Clinicals are at Samaritan Bethany, offering students the unique opportunity to experience clinicals in the Household Model that Samaritan Bethany has adopted, rather than the traditional nursing home setting. See the difference for yourself!
How many students per class?
The class size is a maximum of 10 students.
How much does it cost?
The cost for the program is $900, which includes books.
Is there an reimbursement for the cost of the class?
After completion of the course and passing the state tests, you will be a Nursing Assistant/Registered. When you become employed at a licensed skilled nursing facility in Minnesota, the nursing home is required to reimburse you for the cost of the class and testing.
How do I get my name on the waiting list?
To have your name placed on the waiting list for a future class, please express your interest in a specific class (i.e., June 2020) and provide your name and phone number in an email to Janet Hofschulte at  jhofschulte@samaritanbethany.com.
When I am done with the course, what can I do for work?
Students who successfully complete this course and pass the state nursing assistant exam and skills test are listed on the Minnesota State Nursing Assistant Registry. Registry certification is required in order to work in skilled nursing home settings in Minnesota. Those interested in working in a hospital setting should contact a technical college nursing department for information on additional courses to be eligible for hospital nursing assistant positions.
And see how fun our classes our!  Super NA/R 2018
We look forward to hearing from you!