In Samaritan Bethany's households, residents enjoy delicious meals in a cozy dining area next to the family-style kitchen in each household. Meals are cooked in the main kitchen and brought to each household for extended buffet-style service. This approach allows residents considerable flexibility in choosing their mealtimes to suit their personal preferences and daily schedules.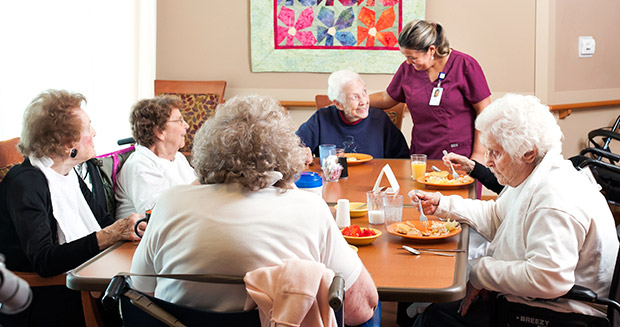 Assisted Living rooms include small refrigerators, and residents are free to take their leftovers back to their rooms.
Beverages and snacks are available in the kitchen throughout the day. Additional refreshments are available at an additional charge from the Pub and Café on the main floor.
Residents of our Independent Living apartments are offered a full breakfast daily in the Arbor Terrace dining room. Lunch and dinner are also available for an additional charge, either on an ongoing basis or by signing up for individual meals.