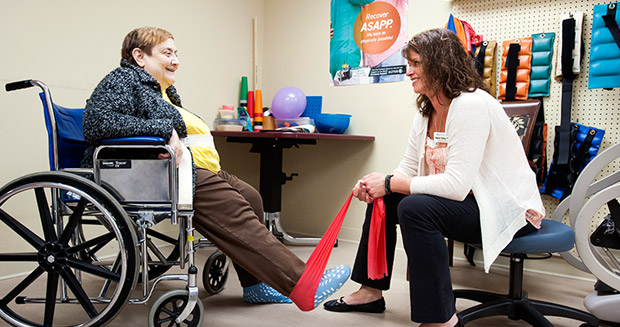 Short Term Rehabilitation
After surgery, injury, stroke or debilitating illness, choose Samaritan Bethany for short term care and rehabilitation. Whether you or a loved one is looking for a rehab provider, know that you have the right to choose. Samaritan Bethany is an outstanding choice, offering a restful and caring environment in a state-of-the-art rehabilitation facility.
Short Term Care Households
Samaritan Bethany offers spacious private rooms in tranquil surroundings. Our households feature carpeted floors and call systems that are intentionally designed to avoid the beeping and other intrusive sounds commonly found in hospitals and skilled care settings. Skilled and caring staff assist each of our clients while they recover strength and restore functioning.
Each room offers a private bath and shower, TV with cable, Internet access and telephone. Our Household Model groups 16 private rooms around a shared family-style kitchen, dining room and living room that are similar to those found in a private home and allow the residents a high degree of flexibility in how they choose to live their lives.
Outstanding Rehabilitation
Samaritan Bethany provides physical therapy, occupational therapy and/or speech therapy as appropriate for each resident's needs. We contract with the professional staff of Rehab Care, Inc. for rehabilitation services.
Our rehabilitation includes state-of-the-art equipment, including an anti-gravity treadmill – one of the first in use in Minnesota care centers. Through skilled services and top-level equipment, our goal is to bring our clients to their highest level of functioning so they can return to their homes.

Rehab Services
Rehabilitation services at Samaritan Bethany include:
Individual evaluation and treatment plans developed to achieve residents' short-term goals
Family involvement and education in the treatment plan as requested by the resident
Interdisciplinary team to help the residents with discharge plans and resources to help them return to community living
Specialty Programming
Specialty programming available includes:
Post stroke
Post total joint replacement
Specialized skin and wound care
Dementia & Alzheimer's care
Cognitive/perceptual retraining
Splinting and contracture management
Arrange a Tour
To arrange a tour or to discuss the features of Short Term Rehabilitation at Samaritan Bethany, please contact Kris Burke, our Transition Coordinator, Move-In, Short Term Rehabilitation / Skilled Care at 507-424-5457 or kburke@samaritanbethany.com.