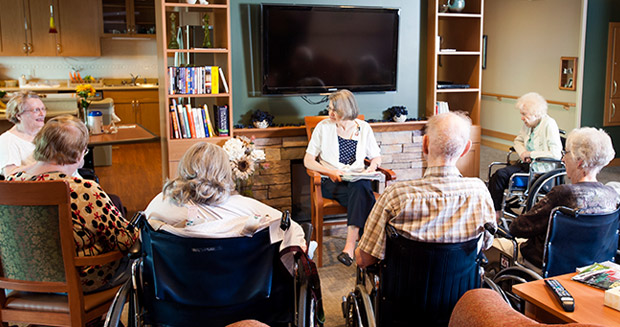 Household Model
Samaritan Bethany has adopted the household model of living for all of our Assisted Living, Memory Care Assisted Living, Short Term Rehabilitation and Long Term Care communities.
Choice and Dignity
The household model reflects a progressive and transformative approach to delivering services to older adults. The model is thoughtfully based on person-directed values and practices that consider and respect the voices of seniors and their caregivers. These principles include choice, dignity, respect, self-determination and purposeful living.
Action Pact, a unique culture change company, describes the household model further:
"

Each household has decision-making autonomy and is consistently staffed. Residents get up when they want, bathe how and when they want, go to bed when they want, eat when and what they want and decide how they will spend their day. Household life is "normal," spontaneous and full of new experiences.
Smaller Scale
Each household features 13-16 private rooms with a shared family-style kitchen, small dining room and living room that feel similar to those found in a private home. Living rooms feature bookshelves, a TV/movie  area and a Wii. Each household also has a balcony. Two adjacent households form a "neighborhood," each named after an actual Rochester neighborhood.
This smaller-scale arrangement, compared to a traditional corridor layout, has a more intimate feel and allows residents a large degree of flexibility to set their own schedules – for sleeping and waking, for meal times and for other activities. We feel that's only right. After all, this is their home.
Closer Connections
The household model also allows a more companionable connection between a household's residents, as well as greater familiarity between residents and the staff who work in each household and are empowered to make decisions to best serve the residents' needs in the moment.