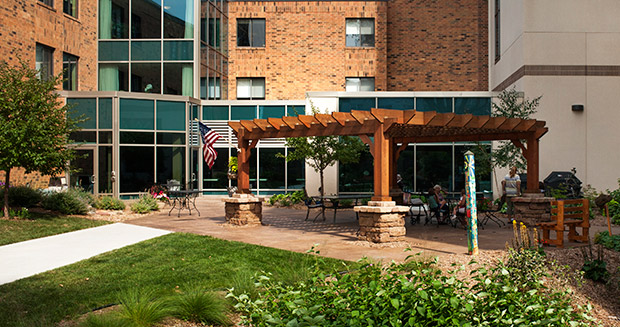 About
Samaritan Bethany is a nondenominational, non-profit and local provider of living and care options for seniors. We provide loving, quality care for people of any faith preference and acknowledge each resident's individuality.
Our mission and values are inspired by our faith in God. We act on the belief that we were sent to serve. We are committed to servant leadership, empowered through faith that is founded in our Christian heritage.
Mission
Providing compassionate individual-directed care that enhances and strengthens the greater community.
Vision
A caring home where each life has meaning and purpose.
History – Celebrating 90+ Years of Caring for Seniors!
Beginnings
Samaritan Bethany began operations in 1922 as The Samaritan Convalescent Hospital and Hotel of Rochester, founded by the Men's Fellowship of Peace, United Church of Christ of Rochester as an extension of the church to serve those in need. By 1956, the facility was remodeled and converted to a modern, 113-bed nursing home, known as the Samaritan Nursing Home.
1970s
In 1973 the newly formed Samaritan Bethany corporation – a merged effort between the founding Peace United Church of Christ and five Olmsted County-area American Lutheran churches – took on the ownership and operation of the nursing home, now known as Samaritan Bethany Home. That year, planning began for a new 122-bed nursing home at 24 8th Street NW, Rochester. The new facility was opened in August of 1976, while the old facility was remodeled and converted to a board and lodging facility for elderly residents, and was renamed The Samaritan Bethany Manor.
1980s – 1990s
Responding to the need for additional nursing home beds in the Rochester area, 12 acres of land at 1530 11th Avenue NW, Rochester, was purchased for the site of a new 120-bed nursing home. In June of 1981, the new facility, named Samaritan Bethany Heights, was opened.
Arbor Terrace, a new 66-unit senior apartment building, opened in 1992, adjacent to the Home on Eighth. Arbor Terrace's user-friendly design for seniors became the new home for many of the residents of the Manor. In the fall of 1992, the Manor was demolished to make room for an addition to the Home on Eighth.
2000s – Present
In 2000, to meet the pressing need of area seniors for affordable assisted living units, 24 new assisted living units opened, and another five units were made available the following year. In 2004, Arbor Terrace expanded its services to enable the residents to continue to live independently longer in their apartments.
During the past several years, Samaritan Bethany has been working on a strategic plan to develop a "Household Model" in all of our living arrangements. In 2011 and 2012, major renovations were completed, allowing the new Household Model to roll out for all Long Term Care and Assisted Living residents.