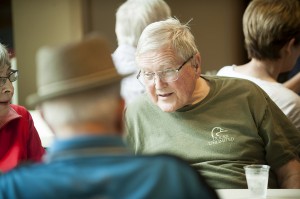 There are countless opportunities for social interaction and fun at Samaritan Bethany. The Household Model fosters connections between residents by creating a smaller-scale living environment.
Volunteers are a regular presence at Samaritan Bethany – offering manicures, accompanying groups on outings, escorting residents to services in the chapel, bringing in therapy animals and just making friends.
Activities and Events
Activities and events of many kinds are planned, from games and movie nights, to musical performances, to excursions to regional attractions. Some events are household- or neighborhood-focused, while others involve the whole Samaritan Bethany community.
Pub and Café at Home on Eighth
Residents and visitors alike enjoy the Pub and Café area on the main floor, where they can get coffee or a cold drink. People use this area for visiting with family, watching sports on the large-screen TV, reading the newspaper or just enjoying each other's company.
Friday happy hour starts at 2:30!