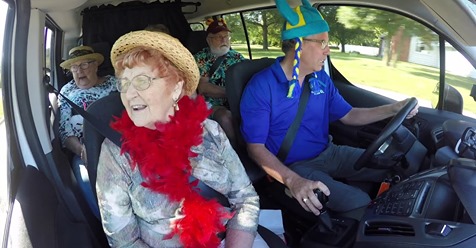 iN2L 60/20 Tour Cruising and Crooning Stopped at Samaritan Bethany
September 23, 2019
The #iN2L6020 tour made a stop at Samaritan Bethany on August 22, 2019.
Jack York, from It's Never 2 Late, is driving around the country to various senior living facilities celebrating his 60th Birthday and It's Never 2 Late's 20 Birthday and his 60th Birthday. During Jack's stop at our Samaritan Bethany, he visited with our residents and took a couple of our residents on a ride in the iN2L Tour Van.
Residents Joan and Barbara Joy, plus Barbara's brother Ron visiting from AZ, and Life Enrichment Mentor, Allison had a blast today with Jack York, from @in2lrocks, in the #iN2L6020tour van! Jack got to see the famous Corn Cob Water Tower!
Check out the video HERE
Happy 20th Birthday to It's Never 2 Late and Happy 60th Birthday to our friend, Jack York! We had fun celebrating with you! #iN2L6020tour #20yearsofiN2L #jackyorkis60