State-of-the-art Anti-gravity Treadmill
July 23, 2014
Patients recovering from surgery, injury or stroke have a unique rehabilitation resource at Samaritan Bethany, which is the only care center in the Rochester area – and one of only two skilled care centers in Minnesota so far – to offer a state-of-the-art anti-gravity treadmill to its rehabilitation patients.
Called the Alter G Anti-Gravity Treadmill, it can take up to 80% of the user's body weight off the lower extremities so patients can progress with rehab sooner and more safely.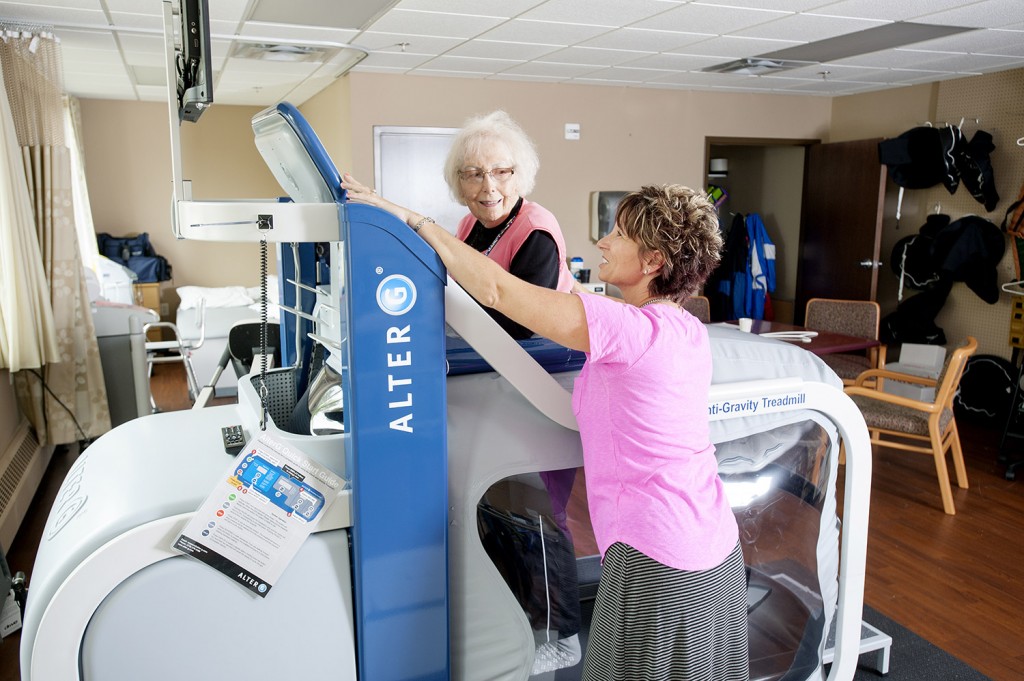 As NBC affiliate KTTC-TV reported:
"

A Rochester nursing care facility is giving patients the feeling they are walking on the moon when it comes to rehabilitation. A brand new anti-gravity treadmill is helping to get patients back on their feet more efficiently and with less pain.

It really feels like you're walking on a cloud and it will help rehab patients that have recently had a stroke or any other injury that affects mobility. Once you put on a special pair of shorts and get zipped in, science takes over.

'It feels like you're not even doing any work,' said Assistant Clinical Mentor Dee Erbe.

'It uses air to take the remainder of that weight so that a person can comfortably stand or walk, something they may not have done in weeks,' said Physical Therapist Kim Mathot.

If a patient is having trouble with stability, either from a stroke, hip or knee replacement, the patient can rehab by walking or running with complete stability and with no pressure on their joints.

'It felt like I was walking on air, I had no trouble with any joint pain,' said Erbe. 'It was a pretty incredible experience, and to think that I'm able to experience that in this nursing home is amazing.'
Samaritan Bethany is proud to be at the leading edge of weightless rehabilitation in Minnesota. For more information about rehabilitation services at Samaritan Bethany, contact Liz Ihrke, LSW, at 507-289-4031 or lihrke@samaritanbethany.com.