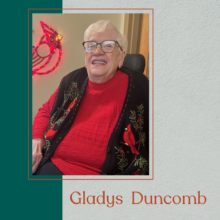 Gladys was born and raised in Austin, MN. She grew up as the middle child with an older brother and younger sister. She raised her two boys in the small town of Lansing, MN near the Chateau Raceway. She has some (not so) fond memories worrying about her boys going to work at the race tracks on Friday nights, but what could a mom do! She worked hard all her life to provide for her sons as a single mother, working hard at three jobs round the clock.
She lived in Lansing until moving to Rochester around December of 1999. She lived in several places while in Rochester, but her favorite was by far living at Fontaine Towers along the river. She loved watching the ducks and remembers when they drained all the water to clear the sand from the river. She remembers how fun it was to ride her electric chair with a friend to go shopping at Kmart and grabbing a burger and fries at Snappy Stop after.
Gladys Duncomb has been a resident here at the Home on Eighth for around 4 years! You can always catch her going to activities, especially if they involve crafting of some sort. She is a master at crocheting and cross stitch. She is so proud to have made all her grandkids blankets when they were born. She also loves to share her cross stitch art—making a lot of Kleenex box covers for the other residents on her neighborhood 😊 If you ever stop to visit Gladys her room is adorned with tons of projects and lots of cardinals! Stop by and ask her about them sometime!