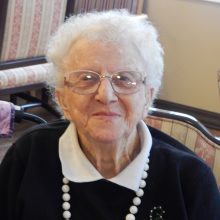 Many people have had the honor and privilege of meeting Shirley Koenig,  a wonderful and very special resident who makes Arbor Terrace her home. Shirley has called Arbor Terrace home for 11 years – how time flies!
Shirley is always willing to go up to a new resident and offer to help show them around and "hold their hand" until they get accustomed to their new home.
At the age of a young 93, Shirley lives alone in her independent apartment, where she cares for herself.
She is active here; on any given day you can see Shirley sitting at the front table with 3 others playing cards – usually 500! She is always on the lookout for anyone who wants to play cards. Shirley also plays bingo and attends music activities throughout the campus.
Shirley likes to talk a lot about her younger years as a student at Byron High and then later in life when she met her husband. When asked what Shirley did in her younger years, she jokingly says "Nothing". Shirley said when her and her husband got married they moved to Oronoco and together raised one son (Gary). While raising Gary, Shirley worked for 16 years at the Olmsted County Extension. Shirley is very proud of her family as she shares that both her son and daughter-in-law are retired nurses from Mayo Clinic. Shirley is also a very proud grandmother of 2 and a great-grandmother of 4. Her eyes light up when they come to visit! Shirley will proudly walk the halls with one of her great-grandchildren sitting on her walker and with the biggest smile will say "Aren't these the cutest you have ever seen?"
Shirley is just one of the many residents we are lucky to have living at Arbor Terrace. When asked what she likes about living here – her response is "Everything".  It's our privilege to listen to resident stories and have them share their wisdom. They are all our extended family.
Arbor Terrace is more than a place to live, it's home.