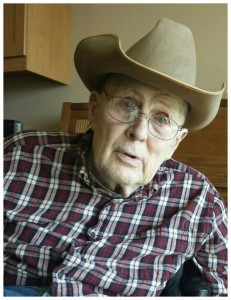 Many people have had the fortunate honor and privilege of meeting and befriending Marvin Lenz, a wonderful resident here at Samaritan Bethany. Marvin is young-at-heart and is enjoying life at the age of 82. He has been a resident at Samaritan Bethany for two and a half years. Marvin delights those he meets, and has lived an extraordinary life.
If given the opportunity, Marvin will chat for hours with you about the wonderful experiences he has had during his lifetime. Though he will tell you that his lifetime profession was as a middle school math teacher, he has played many additional roles as well. For the past 50 years, Marvin has lived in Rochester, MN. However, he spent many years in Nebraska and Montana working as a cattle rancher and as a self-proclaimed "cowboy" prior to coming to Minnesota. He loved working outdoors, and especially enjoyed working with and riding horses. Even today, he will tell you that he would love the chance to get on horseback and ride off into the sunset, cowboy hat and all!
In addition to his roles as teacher and cowboy, Marvin spent some time in the Army in the airborne division, went to college at Hamline University, and had the opportunity to be a minor league baseball player. During his time in baseball, he was almost drafted into the Major Leagues, but was ultimately unable to pursue that as his career. For anybody who has spent time with Marvin, it is clear to see that his life has been full of adventure!
Those adventures eventually led Marvin to his stay at Samaritan Bethany. He has been a wonderful addition to the Hawthorne Household, and he lifts the spirits of those around him. One of his favorite activities here is to spend time singing and attending music related activities that are offered throughout the facility. Though he greatly misses his wife, Louise, as she passed away in 2004, he has found companions and friends in his fellow housemates and the staff at Samaritan Bethany.
Marvin represents just one of the many residents we are lucky and excited to have living here at Samaritan Bethany! Our unique Household Model fosters close relationships between staff and residents. When asked about his thoughts and feelings regarding the Household Model of care, Marvin has said "Staff have the opportunity to get to know us. We have grill-outs and special meals and activities that we enjoy because residents make [many of] the decisions." It is always enjoyable to hear each resident's background and stories that they share because this is not just a place to live; Samaritan Bethany is truly a home and family.