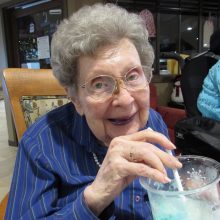 Maridell Gilreath
Maridell came to Rochester in 1961. She worked at Paws and Claws Humane Society for 10 years. At 74 years old she started working part time as Samaritan Bethany's receptionist at the Home on Eighth in April 2003. From 2009-2013 she worked in both the Home on Eighth and Arbor Terrace part time as a receptionist. From 2013-2015 she continued as the receptionist at Arbor Terrace.
When Maridell spent some time in Samaritan Bethany Rehabilitation after a fall, she decided to make Samaritan Bethany her permanent home and became a resident in long term care on 6th neighborhood in November 2015. "The decision to live here wasn't hard at all. God told me I had to stay here."
Maridell is 92 years young and uses her walker to get around, but still attends just about any activity offered. "Going to activities keeps you active, I figure if someone goes through the trouble to plan something I best attend!" She specifically enjoys any activity involving music – Allison's piano music and special entertainment of any kind.
"Simply sitting and visiting with someone is my hobby, I love to talk!"
Lucky for us, her sweet southern accent is delightful to listen to.
Maridell was born in Arkansas and is an only child. After her mother got sick, she decided to make the move to MN in 1961 to be closer to Mayo Clinic, so that she had access to the best health care.  In 1953, Maridell married Gerald Gilreath, who was a real estate broker and served in the Navy during WW2.  She has 3 kids: Steve, and two adopted children, John and Cathy. Steve and John are excellent musicians. John lives in Memphis and works for a car company. Cathy lives in Mississippi. Steve lives in Rochester and video chats with Maridell twice a week. When Steve used to visit in the home, he would often bring his guitar and play/sing songs he wrote.
Her husband Gerald enjoyed fishing as his hobby. (Maridell stated) "I couldn't see any reason to sit in a boat and slap the flies. He would catch the fish and I would cook and eat the fish, that's usually how it went"
Maridell has 3 grandkids, all from her son John. They live in Memphis.
"There's always someone who knows what I'm into!"
She has a strong Lutheran faith. She belongs to the Church of Christ and was highly involved and used to teach classes. She greatly enjoys attending bible study at Samaritan Bethany.
Her mantra "God is in control" keeps her going each and every day.
Writer asked if she had any words of wisdom, she replied,
"Don't ever fight a change, just go with it and you'll be a lot better off"