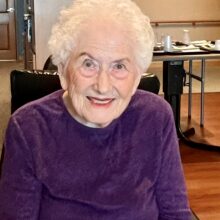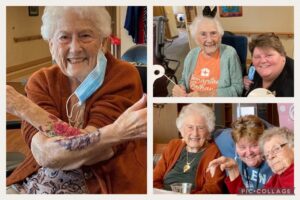 Jewell McWhorter, goes by Judy, was born in Montebello California (Los Angeles County) on June 12, 1928. She graduated High School in Long Beach, California. Judy said she loved to go to the beach and be in the sun and put her feet in the water. She wasn't much of a swimmer but still loved to go to the water!
Judy was a real estate broker in California for 50 years. She said she loved her job, sold her last home at the age of 76 and kept her license until her mid 80's when she decided California didn't need her money! She said to be a good broker you needed to be able to BS and have some psychology background! When she retired she moved to San Diego to be near her daughter and grandchildren.
Judy moved to Rochester seven years ago to be near her daughter Cindy that worked for Mayo Clinic. She moved into the Home on Eighth about three years ago and said she had to buy a refrigerator for her room as Cindy cooked and brought her lots of food!  Judy lives in the 6th Neighborhood.
When asked about what her favorite activities are she said:
"I like to play word blitz, read, play scrabble and visit with other residents. We like to play cards, play 500, bingo and we look forward to those games".
Judy has been married three times and had four children with her second husband John. Nance is retired and living in California, Cindy is retired from Mayo and living in Florida, Michael is retired and loves to ride his two motorcycles and Denise is a retired probation officer in San Diego, California.  She has seven grandchildren and seven great grandchildren.
Judy shared:
"I think the staff are friendly. Not much to dislike. I've made friends with people and I have friends on other floors that I visit. One thing I like is they let me have my independence. I also like having our own beauty salon and getting my hair done, it's nice to have her".