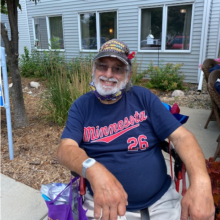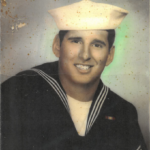 Abe Subia is a born and raised Minnesotan. He grew up in Easton, MN and moved to Rochester, MN in 1979. Abe attended Wells Easton High School and was a sports fanatic. He was on the football team as a tackle, wrestled, and ran track. Looking back at these memories were a highlight of adrenaline and a moment in time Abe wishes he could relive.
Abe was 18 years old when he was drafted to Vietnam a part of the U.S Navy. His task in the Navy was to drop off Marines to the shore. After his deployment he returned home and volunteered at the Disabled American Veterans Organization. This was to assist his brothers who were also deployed and returned home with effects from Agent Orange, hearing loss, and other disabilities from war.
Abe also worked for 20 years under Gus Chafoulias who invented the skyway system in Rochester and developed premier hotels. Then he transitioned to working at St. Francis of Assisi as a custodian. On Abe's 60th birthday his co-workers at St. Francis surprised Abe with Twins tickets!
If you know Abe he is always decked out in Vikings or Twins gear depending on the sport in season. A true Minnesotan fan and watches nearly every game! Abe can recall visiting the new Vikings stadium to watch Lourdes High School compete for the state championship.
Abe had a hard time recovering after Vietnam and he thanks his sister, Audrey, and her husband, Denis, for all their support and love to lift him up in his darkest days. Audrey helped Abe go to school and get his life back on track.  Abe has loved watching his nieces grow up and now gets to be Uncle Abe to his niece's kids too!
Abe has a love for faith and loves to read literature about Mother Teresa. He also loves to tend to the plants around Arbor Terrace, make necklaces and dream catchers, and grace visitors with some classic rock and roll when they come in Arbor's front door.
Abe chose Arbor Terrace as his home with the help of his sister and knew it was the place to go when the time came. Abe says "It is gorgeous, the people are amazing, service is awesome, and if you need a place Arbor Terrace is where you should go."
Abe's life motto is "To take it one day at a time."